MGEN-3
MGEN-3
Lacerta MGEN-3 Autoguider (A.I., Standalone, Remote)
---
Marke:
--Lacerta hot product
Type: Autoguider with A.I.
Chip diagonal: 6,0mm
Resolution: 1,2MP (1280x960)
Transportgewicht: 1kg
(Versandkosten)
EAN Code:
---
Lieferbarkeit
Wien:
nur noch 3 verfügbar
Linz:
nur noch 2 verfügbar
Lager:
bitte anfragen!
Öffnungszeiten
Woanders billiger?
weiter...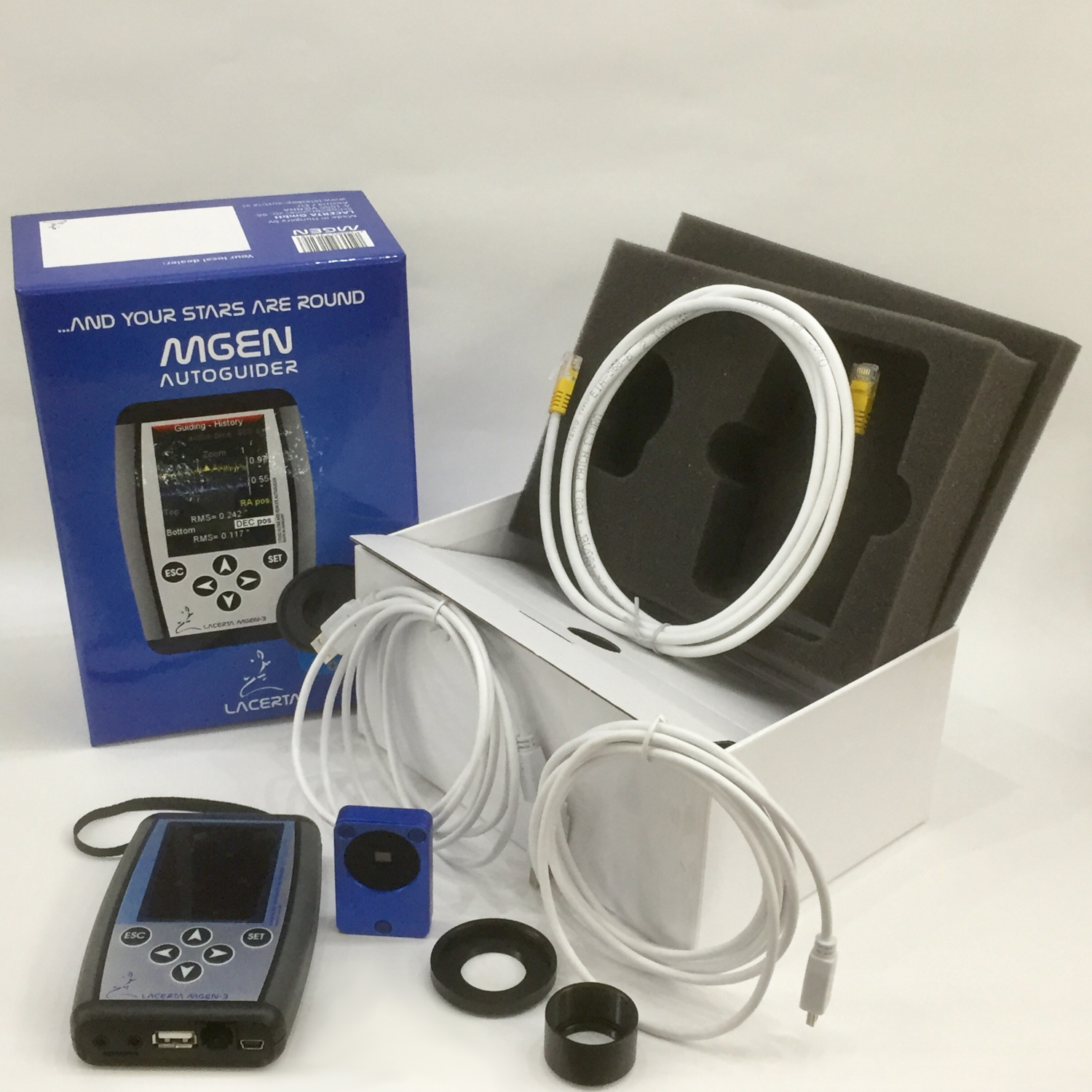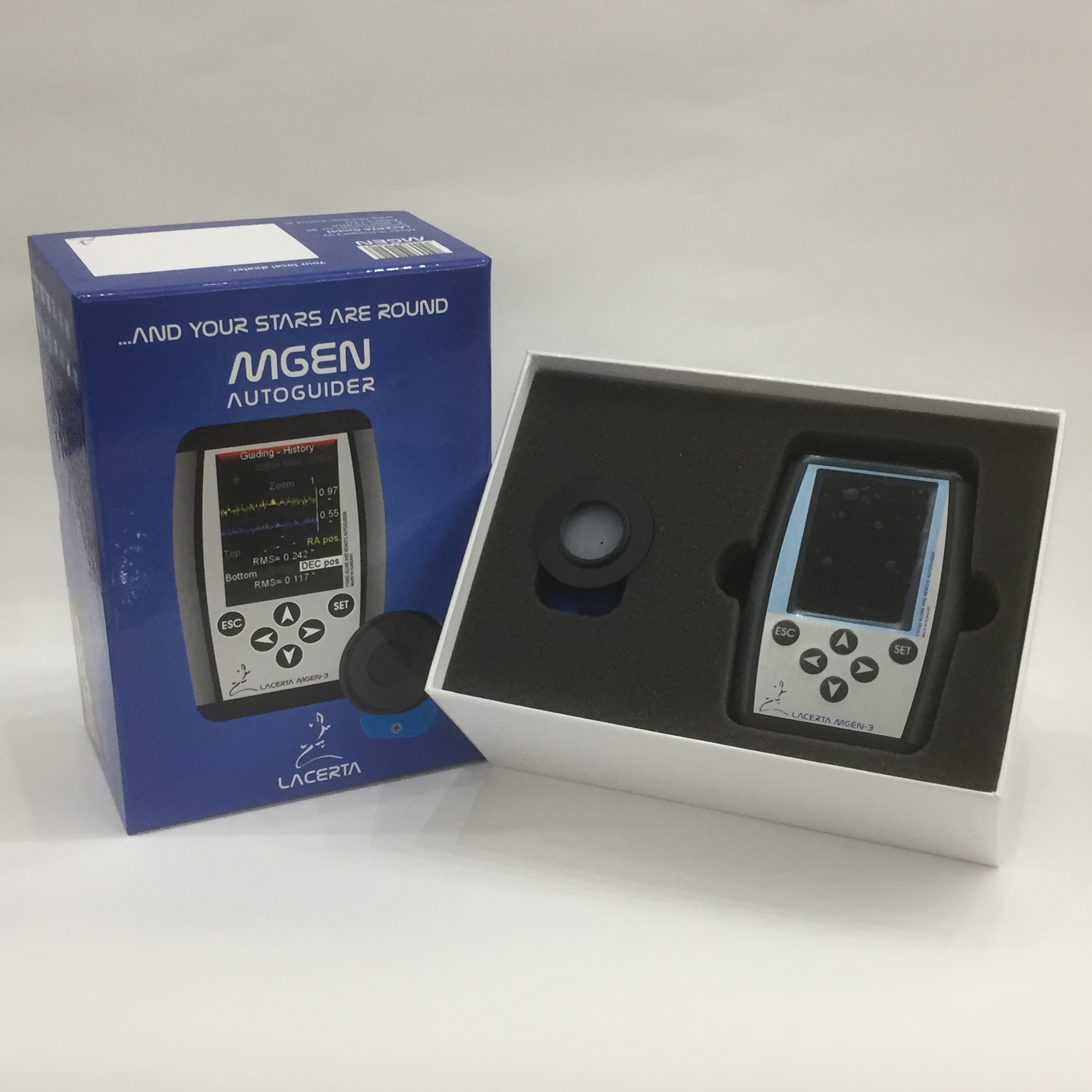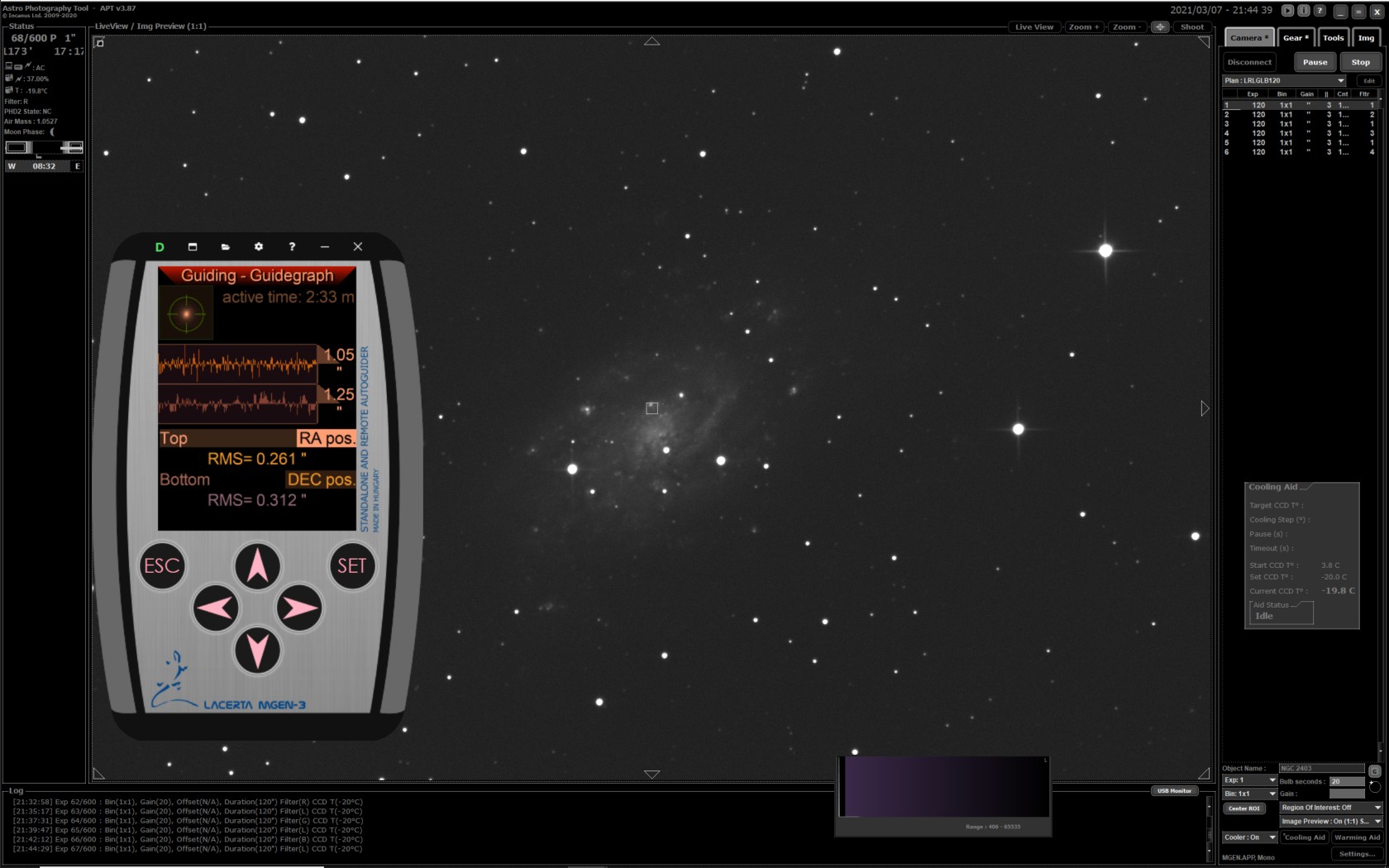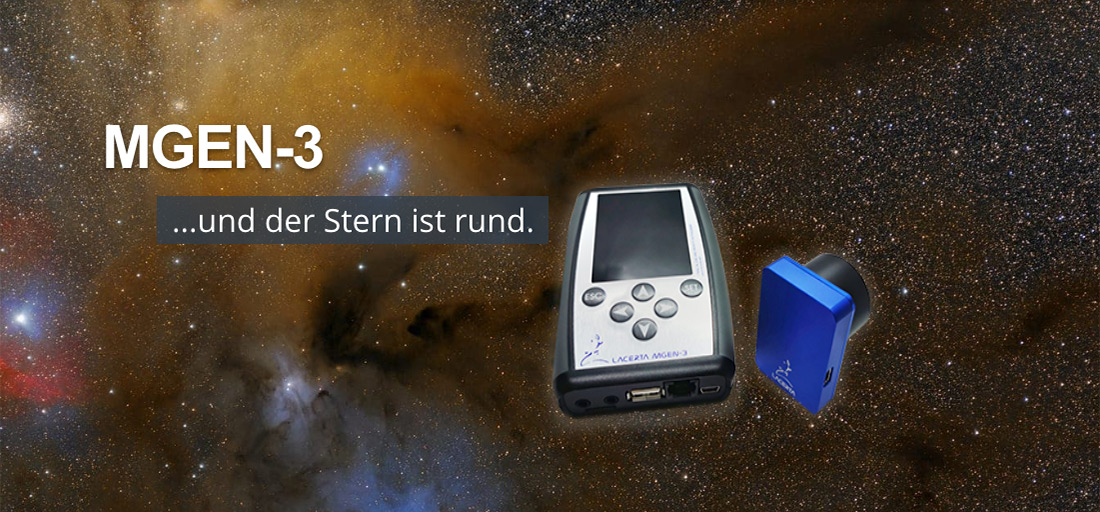 MGEN-3. Der MGEN-II ist Geschichte
Nach 10 Jahren wird das Gerät, das die Art, wie ambitionierte Amateure und Profis ihre Astroaufnahmen guiden, revolutioniert hat, in den Ruhestand geschickt. Die Hardware ist an den Grenzen, der Markt und die Bedürfnisse der Astrofotografen haben sich weiterentwickelt und dem tragen wir als führender Innovator in Sachen Guiding auch Rechnung:

Der MGEN-3 ist da!

Die neue, wesentlich stärkere Hardware ermöglicht das neue selbstlernendes  AI - Multistar - Guiding,
das grosse Farbdisplay macht die Bedienung angenehmer
und mit der neuen Schnellstartfuktion ("push one button") startet das Guiding mit nur einem einzigen Knopfdruck
Trotzdem hat man natürlich, wenn man will, die volle manuelle Kontrolle über sämtliche Parameter... aber wer will das schon, wenn die AI im Hintergrund selbstlernend kontinuierilch parametriert?
Die wesentlichen Eigenschaften:
Stand Alone or PC App controlled // stand alone oder über PC App gesteuert
Selflearning (A.I.) adaptive guiding or manual modes // Selbstlernendes adaptives Guiding (A.I.) oder manuelle Einstellung
Easy to use: one button push guiding or manual control // Einfachste Bedienung: Nur ein Knopfdruck und guidet, oder manuelle Kontrolle
Enhanced high sensitivity with real time darkframe correction // Verbesserte Empfindlichkeit mit Echtzeit Dunkelbild Abzug
Multistar guiding for extra high subpixel precision // Multistar Guiding für verbesserte Subpixel Genauigkeit
Polar alignment using digital Scheiner method // Polausrichtung mit digitaler Scheiner Methode
DSLR/CCD Exposure Control // DSLR/CCD Belichtungssteuerung
Dithering modes available // verschiedene Dithering Modi verfügbar
Guidelog displayed and saved // Guidelog Anzeige und Speicherung
Arbitrary binning modes // Frei wählbare binning Modes
USB powered (5V), typical 240mA / 1.2W // Stromversorgung per USB (5V), nur 1,2W!
Aux Port for additional Equipment // AUX Port für weiteres Zubehör
continuous development, new features // laufende Weiterentwicklung, neue Funktioen
begleitende Apps - nicht nur im support Tab
Die generelle MGEN-3 Support Seite für Produkt-Registrierung, Firmware, Apps und Support Dokumente finden Sie hier:
support.mgen-autoguider.com

Virtual Interface - App zur Steuerung des MGEN-3 über den PC

Sky Emulator: PC App welche Sterne für den MGEN-3 simuliert - zum Kennenlernen und testen

Text Translator: Zum Übersetzen der MGEN-3 Menütexte in andere Sprachen (Ihre Hilfe ist willkommen!)
und viel mehr....
Ascom kompatibel:
Über das Ascom Programm mgen.app kann der Mgen-3 mit nahezu allen CCD/CMOS Steuerprogrammen verwendet werden
Download der mgen.app hier: mgen.app

Der Trick dabei ist, die mgen.app wird in der Steuersoftware als Ascom Aufnahmekamera ausgewählt, und in der mgen.app selbst dann erst die wahre Aufnahmekamera.
Dadurch steht die mgen.app zwischen der Steuersoftware und der Aufnahmekamera, und regelt Guiding und Dithering welches nicht mehr in der Steuersoftware eingestellt wird.
Alle anderen Steuerbefehle, wie Belichtung Filterwechsel Autofokus Livebild etc. werden ganz normal über der Steuersoftware durchgeführt.
Die Oberfläche des Mgen-3 ist gleichzeitig am PC Bildschirm sichtbar und kann auch virtuell bedient werden.
Technische Daten
Kamera
Chip: CMOS AR0130CS mono
Diagonale 6mm
Auflösung: 1.2Mpx
Kühlung: passiv über Gehäuse

Stromversorgung: über USB
Daten: über USB2
Teleskopseitige Anschlüsse: T2, M28.5x0.6 Filtergewinde, 31.7mm Steckhülse / andere Adapter optional verfügbar

automatischer Dunkelbildabzug zur Empfindlichkeitsteigerung

Handbox
großes Farbdisplay (Nightmodes verfügbar)

2x USB
micro SD Karten-Slot
Stromversorgung 5V (USB), typ 240mA

Snap Buchse für Kamera Auslösersteuerung
zusätzlicher Seriell-Ausgang (3,5mm)

WiFi Modul integriert
Lieferumfang
MGEN-3 Handbox
MGEN-3 Kamera
2x USB Kabel (für Stromversorgung und Kameraverbindung)

Autoguider Kabel (ST4 standard)

4 GB micro SD Karte

F.A.Q.
Warum soll MGEN-3 am Leitrohr gut fokussiert werden? - ANTWORT HIER
Testbericht
Mgen-3 - erste Eindrücke von Thomas Schiffer


5
MGEN-3