deltaT
deltaT
Lacerta Dual temperature controll automat for dew heating with two independently controllable outputs (made in Hungary)
---
Marke:
--Lacerta hot product
Type: Temperaturregler
max.power: 4A
voltage: 12V
Transportgewicht: 1kg
(Versandkosten)
EAN Code: 9120069916133
---
Lieferbarkeit
Wien:
mehr als 3 Stk lagernd
Linz:
nur noch 2 verfügbar
Lager:
bitte anfragen!
Öffnungszeiten
Woanders billiger?
weiter...
Lacerta deltaT temperature controller
dont heat more than necessary!

dual temperature controller for dewcaps, heating tapes and telescope optics to reduce seeing and dew.

On clear nights, telescopes cool out due to thermal radiation. As a result, the relative humidity rise and dew settles onto the cool optics and can thus stop the observation night very quickly. A dew cap or heating element increase the temperature around the optics and prevent dew. However, these dew caps often increase the temperature more than needed and this can produce tube seeing or air swirling. Because of the fixed thermal output of dew caps or heating elements, they produce different results for cold and warm nights.With the Lacerta Dual Temperature Controller automatic, these problems are a thing of the past. It uses temperature sensors to measure the outside temperature and the dew cap temperature. Based on the temperature difference, the required power is adjusted to hold the temperature e of the dew cap a few degrees above the ambient temperature. With a temperature pre-set knob the temperature difference between the ambient and the dew cap is defined. With this pre-set, the optimum of dew protection and air turbulence can be found. Another big advantage of this temperature controller is the low energy consumption, because only a small amount of energy is required to reach and maintain the required temperature.
With the Lacerta Dual Temperature Controller all common heating cuffs and dew caps can be used (12V RCA plugs)
Technical specifications:

2x 12V input /output
2x sensor inputs (jack plug)
2x heating outputs (RCA plug)
An example:
The user has set a temperature difference of 10°C and the controller achieves this temperature quickly and reliably and can hold it the entire observation night.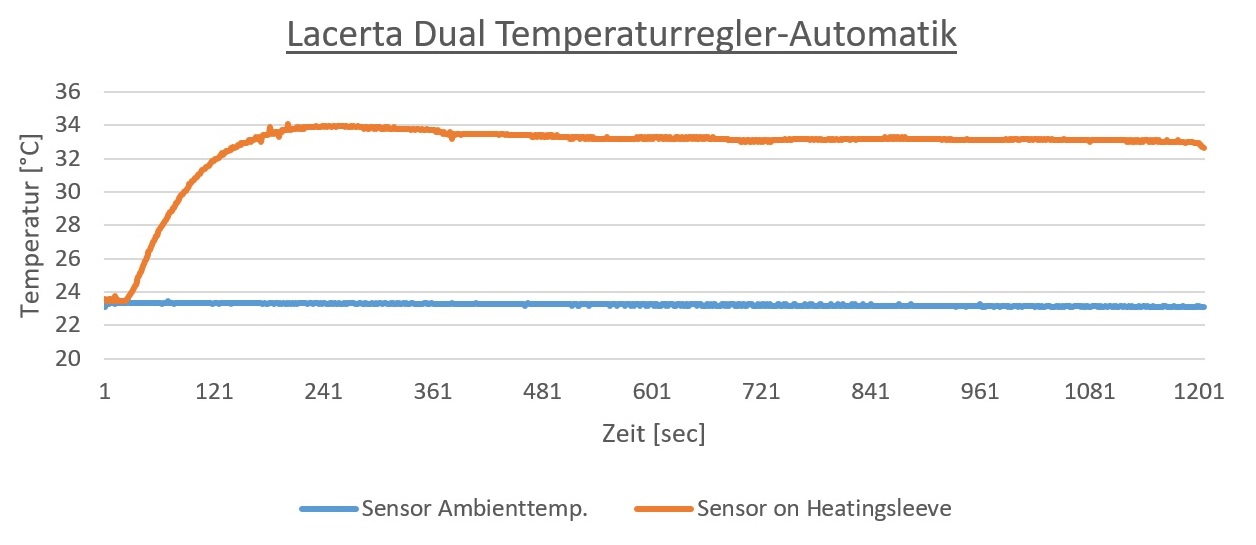 5
deltaT