OAGnikonM54JP
OAGnikonM54JP
Off-axis-guider to adapt NIKON to TAKAHASHI (with M54x0.75 thread: Takahashi, Vixen step-down) Lightpass: 9.7mm
---
Marke:
-Lacerta
Type: OffAxisGuider
free light diameter: 40,8mm
light pass: 9,9mm
Transportgewicht: 1kg
(Versandkosten)
EAN Code:
---
Lieferbarkeit
Wien:
Vorbestellen möglich
Linz:
Vorbestellen möglich
Lager:
bitte anfragen!
Öffnungszeiten
Woanders billiger?
weiter...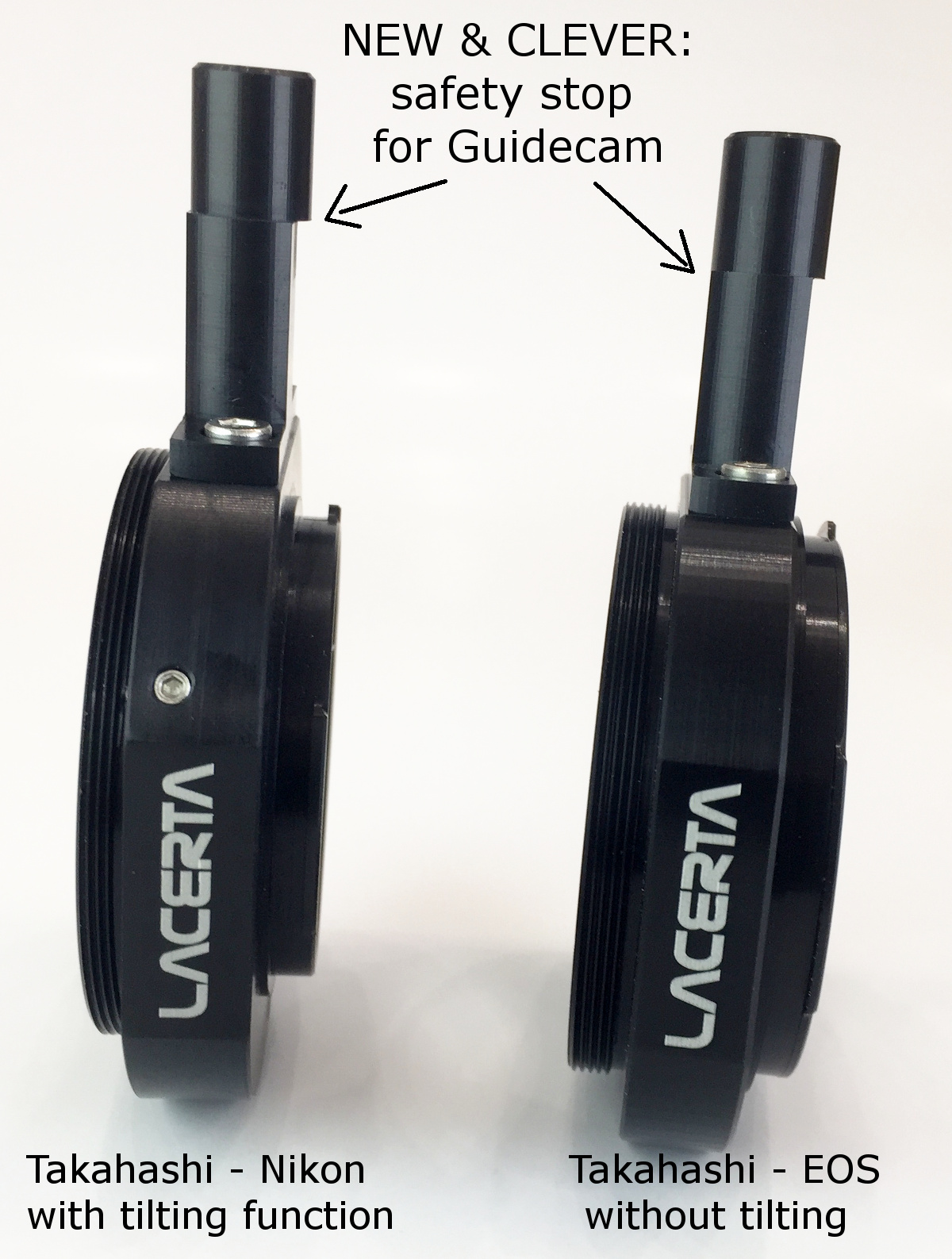 Offaxis Guider for Takahashi & Nikon DSLRs

Maximized stability by avoiding an adjustable guidefinger. With tilt unit and 10mm backfocus. Opimized for Takahashi M54 thread and Nikon DSLRs, incl. T2 guideplatform.

worlds first Off Axis Guider for Nikon with tilting Function
This offaxis guider by Lacerta was specially made to connect Takahashi correctors with M54 thread to Nikon DSLRs. Besides that there is a novel feature: An eventual tilting problem can be adjusted for by 3 screws on the circumference. If you encounter defocused stars on one side of your photo, it is possible to adjust the tilt and get perfect stars to the edge. There are 3 little screws on the circumference that adjust little balls inside the OAG body, which emerge on the front side and are able to detilt the mechanics. The adjustment can be done without taking off the OAG.
step by step instructions:


first mount the Lacerta OAG with balls fully retracted, but pushed to just touch the connecting adapter. Move focuser in about 1mm and make a testphoto. The stars should be tiny disks.

analyse the photo and determine the direction of the tilt. Smaller star disks indicate, where the distance to the focal plane is too little and needs to be enlarged. Caution, the camera shows an upside down mirrored image.

loosen the M54 thread between OAG and corrector a little again, max. 20-30 degrees
push out the corresonding ball (or balls) very little by screwing in the adjustment screw (maybe 1/16 of a turn)

tighten the OAG again, but not too much.

Take a new test photo and check if star sizes are same now everywhere. If yes, focus and start session. If no, do another round of adjustment.
Optimized for short (S) or long (L) focal ratio

the deflection prism is built in fixed, to avoid the common "sickness" of self-loosening guide fingers, and to control connected reflections or diffraction artefacts. The Lacerta OAG is designed to work with fullframe cameras without introducing vignetting by the guide prism.  To adapt different telescopes, two versions ared offered containing different prism sizes.  These are:
S:  fullframe cameras with telescopes from f/3,7  to f/7     APS-C from f/2,8 to f/4  (Version "S" means "short ratio", e.g..: FSQ85 with 0.73 reducer)
L:  fullframe from f/7 to f/15   APS-C from f/4 to f/ 15  (Version "L" means "long ratio", e.g. Takahashi Mewlon with 0.73x reducer)
custom: On request we are able to manufacture a solution for even faster telescopes

Specifications
Nikon Bajonett (APS-C and fullframe)
M54x0.75 Takahashi connecting thread

backfocus: 9.9mm (the tilting function may add by max. 0,4mm)

T2 platform for guide camera (a C-Mount Platform is also available, please specify when ordering)

guidefinger optimized for CS mount guidecams (up to 12,5mm backfocus)
two different prism sizes available (L and S) - please specify when ordering


5
OAGnikonM54JP